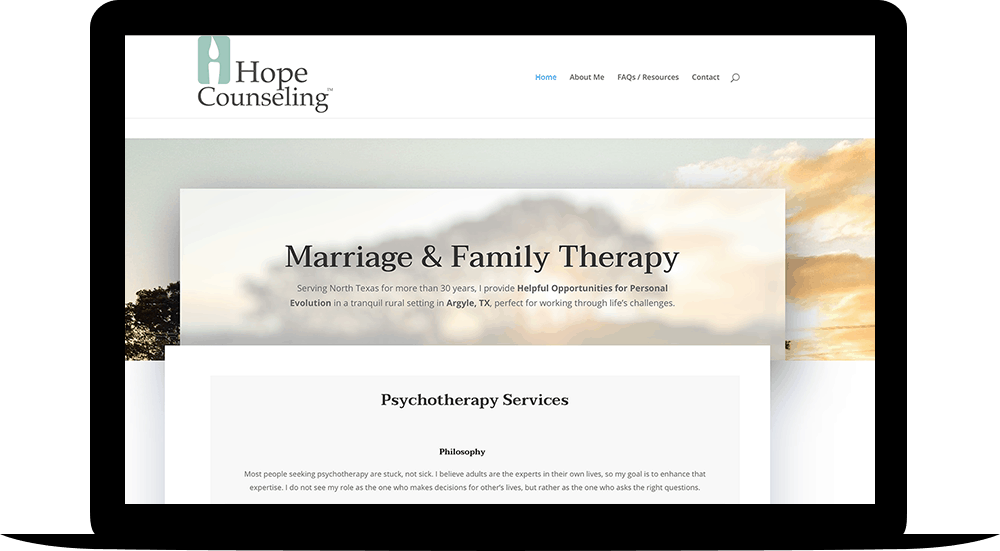 Branding
Website Design
SEO
Client Profile:
Hope Counseling is a well established Marriage & Family Therapy practice.
The Challenge:
The practice was not showing up in search results for local therapists and new clent bookings were declining. The original website was created when the practice was established 30 years prior and the overall brand was also dated to that period.
The Solution:
Update branding to reflect a modern practice that helps today's families.
Refresh key content and images with a focus on keywords for optimized search results
Redesign website using an optimized responsive design with updated user experience.
Add current security and compliance.
Implement analytics tracking and enable reporting.
Change site hosting and ensure long term site maintenance
Results:
Hope Counseling showed on the first page of organic search results within the first few weeks of new website launch. As a result of all our work together, they experienced a 30% increase in booked sessions in the following month and are prepared to add new technologies to better support their clients in the months ahead.